Room Reservation
Holiday Inn Leiden (FULL)
Haagse Schouwweg 10
2332 KG Leiden
t. 071 53 55 555
f. 071 53 55 553

For more information, please send an email to giusi@tigicongress.com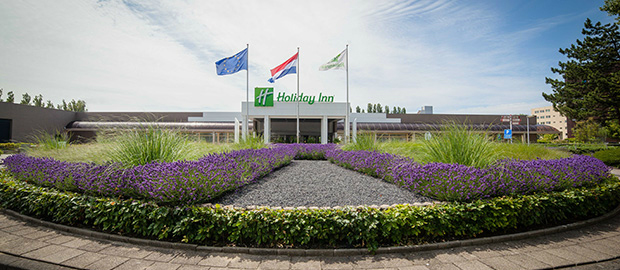 Holiday Inn offers today's business and leisure travellers dependability, friendly service and modern attractive facilities at excellent value. You'll find them throughout the world - in small towns and major cities, along quiet roadways and near bustling airports - because full-service Holiday Inn hotels are always conveniently located. Since 1952 Holiday Inn Hotels and Resorts have provided the services business travellers need, while also offering leisure travellers a comfortable, casual atmosphere where they can relax and enjoy amenities such as restaurants, room service, swimming pools, fitness centres and comfortable lounges. With 1,315 Holiday Inn hotels around the world, 240,025 rooms and 308 hotels in the pipeline, Holiday Inn remains the most popular hotel brand.
Holiday Inn Leiden was the first Holiday Inn hotel in Continental Europe. We are a hotel but you can also call us a meeting point, a congress/event centre, a restaurant or a place of relaxation; all these names are describing the versatility of our unique hotel. You will find everything you are looking for in a modern hotel under one roof; 200 luxury nons-moking guest rooms, a well respected restaurant, a winter garden, a cosy bar, 14 state-of-the-art meeting rooms suitable to host social and corporate events from 2 to 400 people. In addition we have one of the largest event halls in the area which can take no less than 2000 people! The Holiday Inn Leiden is a well-recognized Congress Hotel which received various awards over the years.
Holiday Inn Leiden is also the ideal destination for a relaxed and enjoyable break. The hotel has an extensive variety of recreational facilities on offer such as an indoor swimming pool, sauna, Fitness center, bicycle rental, billiard and table tennis.
Holiday Inn Leiden is conveniently situated on the exit to the A44 and also very centrally located to Amsterdam (30 car minutes), Schiphol Amsterdam Airport and The Hague (both 15 car minutes) and only 5 minutes of the historical centre of museum city Leiden. Within 10 minutes one has the possibility to sail on one of the many beautiful lakes in the province South Holland or one can enjoy a spectacular sunset on one of the wide North Sea beaches.
Need more advantages! Holiday Inn Leiden has more than 300 parking spots! For guests arriving by train, the hotel provides on business days a complimentary shuttle service between Leiden Central Station and the hotel.
RATES:
Double single use room € 99,00
Double room € 124,00 €
Rates are quoted per room per night
Rates are inclusive of buffet breakfast
Applicable VAT is included in the rates
Excluding city tax € 2,50 per person (20 years and older) per night
Check-in time: 3pm, check-out time: 12pm
Parking is free of charge
GETTING THERE
Holiday Inn Leiden is centrally locatednear highway A44, between Amsterdam and The Hague. Amsterdam Schiphol is at only 15 minutes drive from our hotel. We offer 300 free parking places to our hotel guests.
Holiday Inn Leiden****
Haagse Schouwweg 10, 2332 KG LEIDEN
Postbus 9004, 2300 PA LEIDEN
Telefoon:071 53 55 555
Telefax:071 53 55 553
E-mail: hotel@holiday-inn-leiden.com
Internet: www.holiday-inn-leiden.com
latitude 52.1640037, longitude 4.4563848
(N52° 9.8402' / E004° 27.3831')
By car from Amsterdam
A4 direction Den Haag (The Hague)
A44 direction Den Haag Centrum/Leiden-West
exit 8 direction Leiden (end of exit turn left)
at the 2nd traffic lights turn right
Holiday Inn Leiden is at your right
By car from Rotterdam
A13 direction Amsterdam
A4 direction Amsterdam
exit 7 direction Leiden (N206)**
By car from Den Haag (The Hague)

A44 direction Leiden / Amsterdam
take exit 8-Leiden direction N206 Valkenburg/Katwijk/Noordwijk
turn right, following signs direction N206/Leiden/Utrecht
turn right at the traffic lights towards Ehrenfestweg/Haagse Schouwweg/N206
turn right towards Haagse Schouwweg
By car from Utrecht
A12 direction Den Haag (The Hague)
exit 12a direction Leiden (N11)
continue N11 till the end (T-junction)
A4 direction Leiden. Stay on the acceleration lane and take exit 7 direction N206**
**route N206, coming from motorway A4
follow N206 (first direction Leiden, then ´overige richtingen´, then direction Katwijk)
after approx. 5 km you will see a petrol station at your right. Keep left now in order to go straight ahead at the coming traffic lights.
you have reached Holiday Inn Leiden
The hotel is within easy reach by train, bus and taxi
Departing from Leiden Central Station please take bus number 43 with direction Den Haag (The Hague). After 10 minutes you will be at bus stop Holiday Inn (100 meters from the hotel). Or you can take bus numbers 30, 31 and 38 and stop at the Transferium (about 5 minutes walk, hotel guests coming from the direction The Hague can stop here as well). You can also take a taxi at Leiden Central Station.